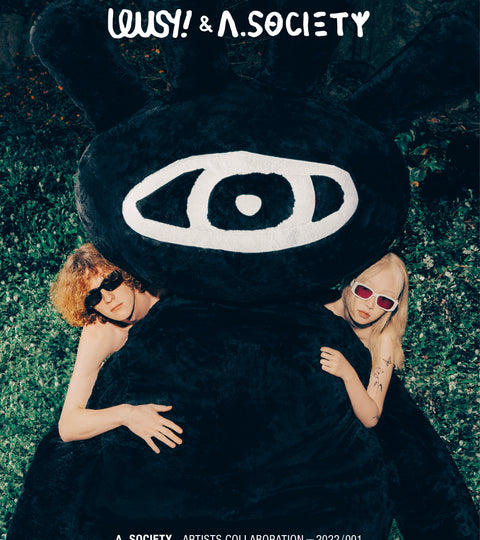 LOUSY x A. SOCIETY ARTIST COLLABORATION
A. SOCIETY showcases its profound passion for the arts by proudly presenting its new collaboration with Hong Kong-based graffiti and visual artist LOUSY.
LOUSY is an artist who draws on all surfaces across all spaces, taking cues from the proactive and spontaneous energy of the streets. His work conveys a spectrum of emotions with a stripped-down approach and is inspired by different cultures such as ancient cave paintings, punk rock, and manga. 
The highly anticipated capsule features a limited run of iconic sunglasses. The artist's practice of wavy, rhythmic lines and comical characters is reimagined into eyewear. These thick curvy textured rectangular frames feature Lousy's signature "Kissface" motif connecting the hinge and temple, available in two colourways: midnight black on black and ivory with shocking pink.
The capsule also features a custom plush toy packaging of the artist's signature mischief mascot that doubles as a mini crossbody bag with a zipper pocket to store the eyewear and limited edition oversize t-shirts featuring LOUSY's exclusive artwork in a hi-quality jersey cotton in three colours of white, black, and pink.